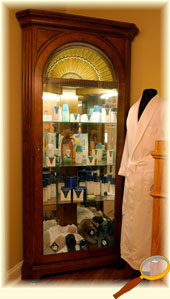 Essential to any spa service are skin care products for at-home use designed specifically for your skin type with long lasting, proven results when used on a regular basis. Salon Palazzo Day Spa is proud to be the area's exclusive retail outlet for Pevonia Botanica products which are recognized worldwide as the premier skin care line.
| | | |
| --- | --- | --- |
| SEVACTIVE | (for dry skin care) | Products: cleanser, lotion, cream, oil and mask |
| LAVANDOU | (for sensitive skin care) | Products: cleanser, lotion, cream, oil, concentrate, and mask |
| FONDAMENTALE | (for combination skin care) | Products: cleanser, lotion, cream, mask, and oil |
| PURILYS | (for oily skin care) | Products: phyto-gel cleanser, lotion, cream, and mask |
All Pevonia products are formulated in Switzerland and are non-comedogenic, contain no mineral oil, lanolin, alcohol, artificial fragrances, artificial colors, nor are they ever tested on animals.
Their products are all designed for use at home following a spa treatment. Please ask your therapist or esthectician which ones are best suited for your specific skin care needs.
Sunless Tanning Emulsion Spray
Middle Age and Mature Skin Treatments
Sunblock Body Milk Moisturizer
Neck, Bust, and Decollete
(cream & concentrate)
After Sun Phyto-Aromatic Mist
Shaving Lotion, Gel, & Cream
Sun Damaged Skin Treatments
Eye Care Cream, Fluid, & Gel
Body-Svelt Cellulite Cream and Gel
Acne Treatments
Body Scrub and Moisturizer
Multi-Active Hand Cream
Bath & Shower Gel
Aqua-Gel Exfoliating Cleanser
Rosacea Treatments
Pre-Natal Emulsion
Seaweed Exfoiliating Soap
Irregularity/Discoloration Treatments
Aromatherapy Bath Salt
(with essential Oils)
Marine Collagen, Elastin, D.N.A.
(cream & concentrate)
For even more details about the Pevonia Botanica skin care line and which products are right for your specific skin type, please click here to visit Pevonia at www.PEVONIA.com.