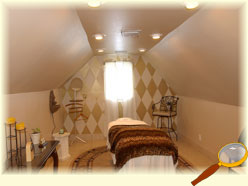 The purpose of massage therapy may be directed toward relieving muscle pain and stress, relaxation, or increasing body awareness. Each session is individualized to maximize the benefit intended.
Relaxation
Allow 1 hour
This luxurious massage relaxes all the major muscles. Leaves the body completely stress free.
Craniosacaral Therapy
Allow 1 hour
This form of therapy is performed on a person fully clothed. The therapist, using a very light touch - generally no more than the weight of a nickel - monitors the rhythm of the craniosacaral system to detect restrictions and imbalances. Then delicate manual techniques are used to release those problem areas and relieve undue pressure on the brain and spinal cord.
Hot Stone Therapy Massage
Allow 1 hour and 15 minutes
Utilizing Swedish massage techniques, Hot Stone Therapy is the application of deep penetrating warmth with smooth heated stones. Muscle tension is melted away as you experience peacefulness and relaxation from the stones' healing energies.
Reflexology Foot Massage
Allow 30 minutes
Experience a foot and lower leg massage that relieves stress, tension, and improves circulation by incorporating ginger, a natural muscle relaxer, with warm stones placed between the toes.
Pre & Post-Natal Massage
Allow 1 hour
Beginning in the second trimester, this massage is recommended to pamper as well as relieve leg cramps, back pain, stress, and fatigue. It also stimulates circulation.
Headache Session
Allow 30 minutes
This massage is intended to relieve stress, tension, and pain. It includes the face, scalp, and shoulders.
Stress Break
Per minute
Fully clothed seated massage.
Ask your therapist about the full line of Pevonia bath and shower gels (contour, toning, anti-stress) and body moisturizers to complement your massage.