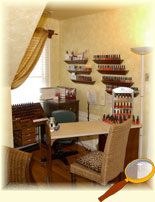 Gentleman's Manicure $20
Spa Manicure
Allow 1 hour and 15 minutes
This service includes a traditional manicure plus a therapeutic spa wrap with essential oils.
Paraffin Moisturizing & Hand Exfoliation Treatment
Allow 20 minutes
Your hands or feet are dipped in warmed paraffin, then placed in mitts. Ask about other special manicures available.

Spa Pedicure
Allow 1 hour
Indulge yourself in a luxurious footbath while an exfoliator is used to smooth calluses. Then an invigorating mask is applied, followed by a moisturizer, leaving your feet tingling and soft with new vigor.
Paraffin Treatment
Allow 20 minutes