High Performance Treatments - These are suggested by your skin care professional
Allow 1 hour and 30 minutes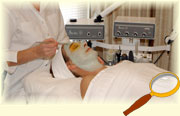 These treatments help prevent premature aging, uneven texture, wrinkles, and slacking of the skin. We start with a deep pore cleansing and exfoliation, then a personalized freeze-dried treatment for any skin type (listed below) is deeply absorbed into the skin. It promotes elasticity and firmness of the skin tissues and achieves a visibly smoother and more youthful appearance. For best results 3 to 6 treatments are recommended, once every 20-30 days. Pevonia Skin Care Concentrates and Night Creams should be used as a home regimen to give you longer lasting results from any of these specific treatments. Ask your esthetician which one is suited best for your specific needs.
• Collagen is for fighting against premature aging and slacking of the skin
• DNA is for improving uneven skin texture, enlarged pores, new scars and after acne
• Elastin is for improving skin's lack of elasticity
• Lightening is for hyperpigmentation (discoloration) of the skin due to sun damage and hormones
Botanical Facial
Allow 1 hour and 30 minutes
The very essence of good skin care, this treatment is designed specifically for your skin type. It includes deep cleansing, exfoliation, steaming, extraction, massage and a mask to produce remarkable results. For further improvements, use Pevonia Skin Care Products daily that have been specifically recommended by your esthetician to meet your specific skin care needs.
Mini Facial
Allow 30 minutes
Acne Facial
Allow 1 hour and 30 minutes
This treatment is specifically tailored to those who suffer with problematic skin. It removes impurities from pores that contribute to regular or occasional breakouts, controls bacteria and helps prevent infection, leaving skin clean, refreshed, and refined. The use of products within the Pevonia Problematic Skin Care line will provide best results for this particular type of skin care difficulty.
Rosacea Treatment
Allow 1 hour and 30 minutes
A treatment that reveals the ancient secrets of Greek and Egyptian civilizations to soothe the skin, ease blotchiness and redness while hydrating and nourishing the skin. Rich in green tea and licorice extract, it delivers proven results for this special type of skin care problem. Products within the Linge Rose - RS2 Rosacea line have given proven clinical results when used daily.
Eye Lifting Treatment
Allow 45 minutes
A treatment that fights wrinkles, smoothes crepiness and strengthens and firms eyelids. It promotes blood circulation around the eyes, alleviating dark circles, easing eye stress and fatigue. An ideal treatment to complement any facial. Six treatments are recommended for best results. Pevonia Collastine Eye Fluid gives added benefits when used daily at home.
Destress Eye Treatment for Puffiness
Allow 30 minutes
A soothing, cooling, decongesting, anti-puffiness and anti-stress treatment recommended for puffy eyes with stagnation, stress and fatigue. Pevonia Eye Gel provides a daily treatment for puffiness.
Destress Eye Treatment for Wrinkles
Allow 30 minutes
A unique treatment for wrinkles and crepiness with outstanding results. Uses 100% pure marine collagen. When used daily, Pevonia Eye Cream hydrates the entire eye area which helps to prevent further wrinkles.
Lip Area Treatment for Wrinkles
Allow 30 minutes
Oxy-Vital Lift-off Mask
Allow 1 hour and 30 minutes
Soothe traumatized skin with this sheet mask rich in essential amino acids and permeated with Aloe Vera; nature's very best energetic vehicle for healing. This is an ideal mask after dermabrasion, laser resurfacing, chemical peel or sunburn, to soothe and diffuse redness leaving the skin cool, fresh and hydrated. Pevonia Reactive Skin Care Cream gives added benefits if used daily.
Mango Peel
Allow 1 hour
Floricide Peel
Allow 1 hour and 30 minutes
Surpassing the "peel norm," this flower acid peel offers the latest revelation in peeling procedures. A treatment to help diminish aging signs, wrinkles as well as dark spots, and reduce sebum while hydrating the skin. It leaves the skin looking soft, smooth, and with vibrant color. When used twice each day after this treatment, Pevonia Sensitive Skin Care Products further hydrate and soothe the skin.

Herbal Calming
Allow 1 hour and 30 minutes
Purifying Sea
Allow 1 hour and 30 minutes
Plantomer "Beauty Flash"
Allow 1 hour and 30 minutes
An effective treatment that deeply hydrates the skin, leaving it tight, refreshed, vital and healthy with exceptional glow. It produces a soft lift-off mask with a rubber consistency and a cool feeling. Excellent before a professional make-up or special occasion. Propolis Concentrate and daily Pevonia Skin Care product use will give longer lasting results for this special treatment.
Luminous "C" and "Sea" Lift-off Mask
Allow 1 hour and 30 minutes
Blending a potent concentration of stabilized Vitamin C with the latest high-tech formulation of pure freeze-dried seaweed, this treatment reduces fine lines, strengthens skin's elasticity, counteracts photoaging, and restores a youthful appearance rendering the skin nothing but luminous. Pevonia "C" Complex when used with O2ptimal Care Cream provides longer lasting results with this mask.
Anti-Free Radicals Lift-off Mask
Allow 1 hour and 30 minutes
Enjoy this unique mask, delightfully scented with lavender, while it gradually becomes soothingly warm and then cools to a refreshing chill. This change in temperature serves to increase absorbency of all the active ingredients with micronized vitamins working as anti-free radicals. This mask provides a tighter, more radiant and rejuvenated appearance to the skin. Pevonia skin care products that have been recommended for your specific skin type give best results when used each day.
Esthebuste Treatment
Allow 1 hour
Using a high concentration of active ingredients, this treatment ensures visible results by improving texture, elasticity, hydration and color of the entire area extending between the chin and lower bust line. Astonishing effects against sun damaged decollete, crepiness, fine lines and dehydration can be achieved through this treatment. Pevonia Esthebuste Care Cream and Esthebuste Concentrate should be used daily after this treatment for maximum benefits.
Gentleman's Facial
Allow 1 hour
This revitalizing treatment provides a thorough deep pore cleansing that helps to lift ingrown hairs and relieve congested skin areas. Razor burns are soothed while the skin tightens and firms. A facial massage accompanies this treatment. Pevonia has proven skin care products formulated especially for men's special facial needs.
Back Facial
Allow 1 hour and 30 minutes
This unique back treatment detoxifies the skin and reduces muscular stress while promoting smooth skin. Treatment includes purification of congested skin areas prone to breakout. Bath & Shower Gel, Body Scrub, and AHA Body Moisturizer are recommended to keep your skin smooth and hydrated between treatments.
Paraffin Moisturizing Treatment
Hands or Feet
Add to any Massage