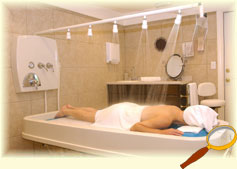 Body Salt Glow
Allow 1 hour
Feel stress melt away as your skin is gently massaged using a blend of aromatic sea and mineral salts along with essential oils to remove impurities, dead skin cells and stimulate circulation, bringing your skin back to superb radiance.

Desert Heat Cocoon
Allow 1 hour and 30 minutes
Imagine yourself floating within the comfort of a warm, soothing, bubbling cocoon offering a phenomenal blend of nature's richest red seaweed and mineralized golden Arizona desert mud. This body wrap produces thousands of bubbles that ensure every inch of your skin seeps in healing and nourishing minerals while your mind and body experience an extreme state of utter relaxation. An excellent way to soothe your aches and pains and send your stress and anxiety far, far away. Your entire being emerges feeling vibrant, renewed and rejuvenated.

Detox-Thalasso Wrap
Allow 1 hour and 30 minutes
This seaweed wrap is soothing and smoothing. Relax and luxuriate in steady warmth while your skin detoxifies and benefits from the rich array of micronized minerals, vitamins, and enzymes naturally abundant in this French seaweed.

Aromatic Moor Wrap
Allow 1 hour and 30 minutes
Gently vanquishing aches and pains, this wrap brings a total state of relaxation and wellness. Rich in vitamins, minerals, and enzymes, the unique natural magma rejuvenates your skin and brings it back to a healthy life.

Buff and Tan Bronzing
Allow 1 hour
Achieve a natural looking golden glow without sun exposure. A body salt glow treatment precedes application of tan to ensure an even and long lasting coverage.

Ask your therapist about the full line of Pevonia body scrubs, bath salts, moisturizers, and bath gels to further enhance each treatment at home.